FAQ
You asked - we answered! Here's the low-down straight from the data experts.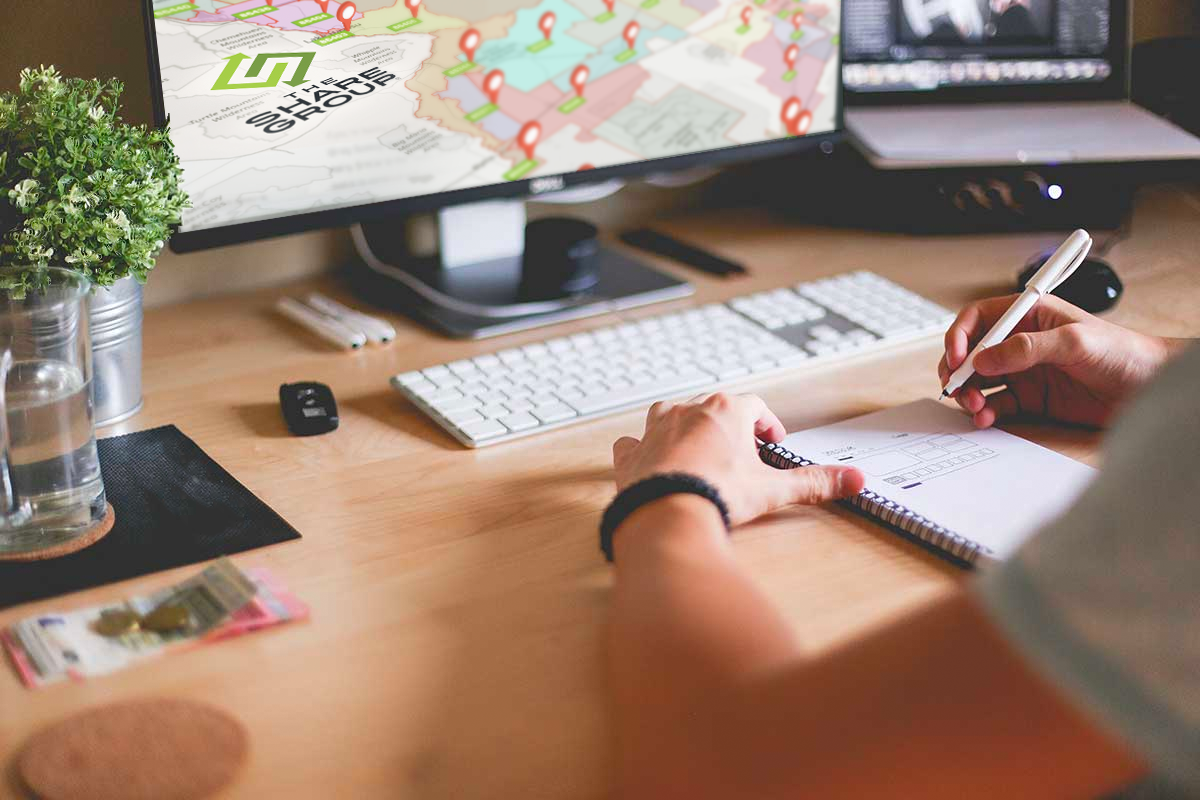 What kind of data does The Share Group offer?
Absentee - individuals who own a residential property without actively occupying it.
Distressed - owners who could be upside down on their loans, have poor credit, or may have compromised income.
Likely-to-Sell - we determine LTS owners based on specific demographics (equity, length of residence, etc.) in order to find ideal candidates.
We also offer custom lists - reach out to one of our reps to learn more!
How is the data compiled?
We bring together nationwide data sets from multiple sources to compile, cross-verify and update our Absentee Owner data.
These online and offline sources include public records like county courthouse records, telephone directories, credit bureaus, government agencies, postal services, voter registrations, as well as dozens of online opt-in resources.
We then append owner phone number AND owner email address from our proprietary contact database.
How do I download my leads?
When you place an order for seller leads with The Share Group, we will contact you to verify the lead quantity and price for your specific zip codes. This typically happens in less than 1 business day.
Once your order is approved, we will run your lead list through our final hygiene and verification process to append and verify the your leads. This final process takes less than 1 business day.
When your order is ready, you will receive an email with a link to your file.
Click on the file name and you will be taken to the download page.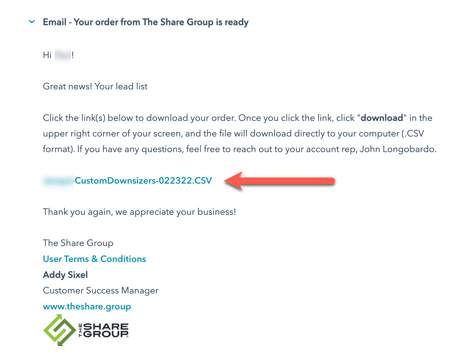 You will see your download page with a preview of your lead list. Click the green Download button on the top right corner of your screen.
Your lead list will be downloaded to your computer in a CSV (comma delimited) format. (CSV is a universal format compatible with Excel, Google Sheets, or most any CRM or Dialer software.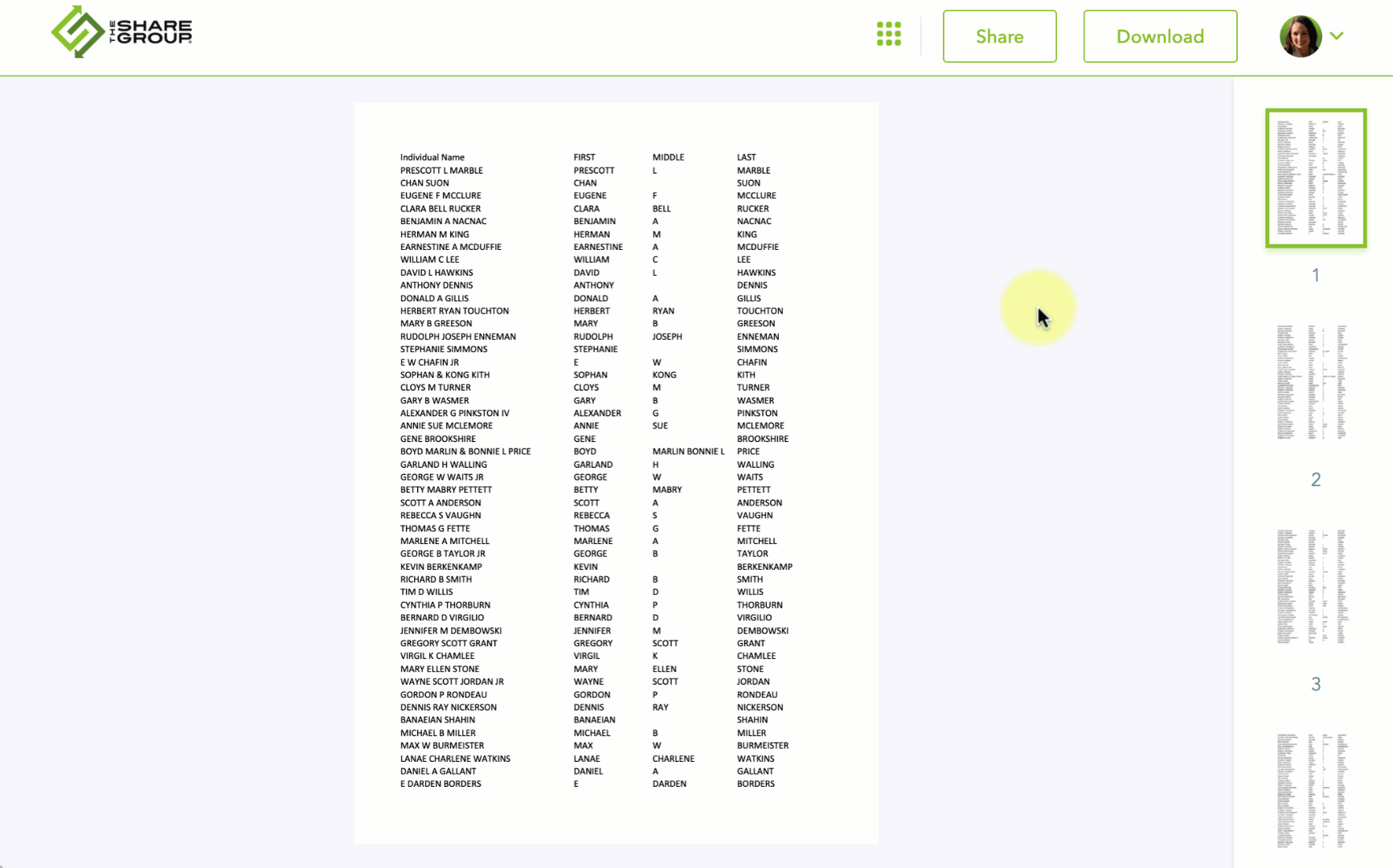 Click here for more details on how to download your lead list.
What are Absentee Owners?
From a real estate perspective, an Absentee Owner is someone who owns a residential property and does not occupy that property.
Although this can refer to landlords and owners of rental properties, the term "absentee owner" is typically used to refer owners who's property sits vacant.
Someone who inherited a property (s) either through a Will or through Probate.
Someone who has moved but has not sold their property yet.
Someone who purchased a property as a potential rental but has not yet found a tenant.
Someone who purchased a property as an investment but does not live in it.
What is a "Distressed" property?
Our Distresses Property Leads, sometimes referred to as pre-foreclosure, are residential properties where the owner has shown signs of being unable to keep up with financial obligations, specifically the mortgage.
Some homeowners may be upside down on their loan, have poor credit or compromised income.
Distressed properties can be at risk of falling into foreclosure, however it does not mean they are actively in foreclosure.
What data is included?
Every lead from The Share Group includes the following fields at no additional cost:
Property Owner's First & Last Name
Property Owner's Address, City, State & Postal Code
Property Address, City, State & Postal Code
Owner Phone Number
Owner Email (where available approximately ~ 60%)
How many leads do I need?
For first time customers we typically recommend starting with at least 3500 records. Our Absentee Owner lists are sold as a one-time purchase.
There are no contracts or commitments. We know that when you're successful, you'll be back for more leads.
In the end, it all depends on you. How much time have you allocated for prospecting and how many calls will you get through in a day or a week.
Talk to one of our data experts and we can find the best solution for your campaign. 402-235-4556
Why are Absentee Owners considered Motivated Sellers?
Absentee owners often have little emotional attachment to their homes, which is why they allow them to sit vacant for extended periods of time.
Therefore, they are more willing to part with their assets when presented with an attractive offer.
Property owner or tenant?
Our Absentee Owner leads include the property owner's information, not the tenant.
Why The Share Group?
We are a boutique database marketing company focused on building lead lists for real estate agents, brokers and investors looking to find more listings and grow their business.
With over 100 years of database marketing experience, we take pride in developing relationships with our partners that last.
It's simple. We put the best leads in your hands so that you can close more real estate transactions.
How long does it take to receive my data?
Once an invoice is paid, you will receive your data within 24-48 hours.
We run our data through a final stage hygiene process to ensure you are receiving the most accurate records.
What are "Likely-to-Sell" properties?
Our Likely to Sell Owners Database includes transactional data elements that specifically target a number of factors including:
Amount of equity present on the home
Length of residence
Home value historical and present
Other demographic elements which identify these properties as an ideal candidate ready to sell their home.
Can you flag DNC phone numbers?
Yes, we can omit / remove or simply flag FTC Do-Not-Call records.
How many Absentee Owners are there?
We have identified over 12 Million Absentee Owner properties in the US.
To see how many Absentee Owners there are in your geography, we just need 3 or more zip / postal codes that you would like to target.
We'll send you updated counts in your geography within one business day at no cost.
Call us to get started! 402-235-4556
Which numbers are cell phones?
Our Absentee Owner lists will include a mix of landline and cell phones.
We can filter the list to remove or simply flag any cell phones if needed.
How is the data updated?
Our Absentee Owner database is updated every 60 to 90 days. We pride ourselves on having the most accurate and up-to-date leads possible.
How is the data formatted?
Your absentee owner lead list will be sent to you in a CSV (comma delimited) format which can be imported into any CRM, dialer, or other marketing tool.
In a hurry?
Call: 402-235-4556
Our team of database marketing experts is waiting to help or Schedule a Meeting below.
Schedule a Meeting